The Goddess of
North San Juan
Reveals Herself
She Was
Unearthed the morning of the Spring Equinox, March 20th, 1999
in Downtown North San Juan, CA
In time for a Ceremony by the Iseum Isis Aurea,
held that afternoon, also in North San Juan
Proof that the Goddess is Alive
And that She is Returning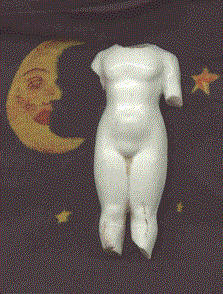 Hail to thee, White Goddess of North San Juan
Protect and watch over your children,
Pay especial care to the forgotten and the poor,
And the lonely souls at the Brass Rail,
Protect the motorcycle riders
As they pass along the roadways,
Keep them on their side of the road.
Let all women be respected for who they are,
And live lives free of opression and cruel relationships.
Show the elderly that the young are their future,
And may the generations understand each other
And treat each other with kindness and compassion.
Bless even those who don't honor you,
They have their own path.
Let the flowers ever bloom in the springtime,
And bless the rednecks and hippies both,
May they reach understanding.
We honor you with flowers and ceremony
That you might stay in our lives
And help to heal the mess the goldminers made
Of your lovely earth and streams.
Let poetry and music be the sounds heard,
And drumming and laughter fill the air.
And greed be a thing of the past.
Goddess of North San Juan
We are glad you have returned,
We sprinkle your path with flowers and love.
May you stay with us,
As the Divine Feminine is brought into the world,
Thank you for revealing yourself to us,
Your children.
She now has her own Iseum of Our Lady of the Yuba.